Summary
IP Audio Distribution Without Compromise…
Tieline's award winning Genie Distribution is the world's most powerful DSP-based IP audio codec for multipoint audio distribution over a wide range of wired and wireless IP networks.
Designed for the latest digital IP broadcast networks, Genie Distribution is the most feature-packed audio distribution codec with multiple levels of power, audio and network redundancy.
Overview
Genie Distribution is the World's most powerful IP audio codec for LAN and WAN audio distribution applications.
Features
Applications
Genie Distribution delivers superior quality audio over IP (AoIP) on LANs, WANs, the internet, satellite IP, 3G, 4G, Wi-MAX and Wi-Fi. It is specifically designed for continuous operation over mission critical audio paths throughout broadcast IP networks. It is ideal for:
3 x bidirectional stereo connections, or
2 x stereo and 2 x mono bidirectional connections, or
1 x stereo and 4 x mono bidirectional connections, or
6 x mono bidirectional connections.
Streaming multiple algorithms simultaneously at different sample rates and bit-rates.
Genie Distribution is also capable of:
Distributing up to 6 channels of bidirectional mono audio between two codecs.
Up to 3 simultaneous mono/stereo multi-unicasts to a maximum of 50 endpoints in total.
Up to 3 simultaneous mono/stereo multicasts over compatible IP networks to unlimited endpoints.
Unsurpassed Clarity
Genie Distribution is capable of 24bit 96kHz low latency linear PCM audio, delivering unsurpassed sonic clarity. The codec also features a full complement of professional algorithms including the low delay and cascade-resilient E-apt-X algorithm, as well as the popular LC-AAC, HE-AAC v1 and v2, AAC-LD, AAC-ELDv1 and v2, Opus, MPEG Layer II, Tieline Music and MusicPLUS, G.722 and G.711 algorithms. Genie Distribution also supports up to 6 simultaneous streams of Opus encoding. Asymmetric encoding and decoding lets you send high quality audio in one direction and save on data by sending low bandwidth program on the return channel.
Multiple Backup Options
Genie Distribution features dual Gigabit Ethernet ports (10/100/1000), dual redundant power supplies, audio silence detection and IP network backup solutions to ensure you're always on the air.
Automated network failure detection provides switching to a backup IP LAN connection. Automatic silence detection can fail over to an alternative audio input, or playback MP2 or MP3 audio files from a thumb-drive drive attached to Genie's USB Host port.
SmartStream: Rock Solid Audio using Inexpensive IP Links

As an IP audio pioneer, Tieline was the first major codec manufacturer to integrate SmartStream features such as Automated Jitter Buffer management, Forward Error Correction (FEC) and error concealment techniques in all IP codecs. These features dynamically respond to variable conditions over unmanaged IP networks like the public internet to ensure reliable streaming.


Now SmartStream PLUS has revolutionised IP broadcasting by delivering the rock solid and reliable STL-grade audio quality you would expect over a T1/E1 link by using inexpensive unmanaged IP networks like the internet for STLs, audio distribution and remotes.
Save Money Now with SmartStream PLUS Redundant Streaming
Tieline can show you how an investment in new codecs will pay for itself in just a few months by using SmartStream PLUS over inexpensive IP links to transport STL-grade, high fidelity audio at a fraction of the cost of synchronous leased lines. With SmartStream PLUS:
The codec can stream simultaneous redundant data streams from both Ethernet ports and deliver seamless redundancy by switching back and forth, without loss of audio, from the nominated primary data link to the backup link if one fails and then subsequently recovers. Note: Use IP links from two different IP network providers for optimal redundancy over mission critical STL connections.
When multiple redundant audio streams are sent, the decoding codec automatically reconstructs audio into a perfect single stream on a first packet arrived basis to ensure audio integrity.
These combined measures ensure Tieline is capable of offering an IP STL solution, in which the payload capability of your network infrastructure is the only limitation to successfully distributing, reliable, high fidelity STL audio across broadcast networks.
SmartStream IP Delivers …
Some other manufacturers charge thousands of dollars for IP management software like SmartStream as if it's an optional extra, however Tieline believes high performance and rock-solid reliability is an essential part of each and every broadcast, and therefore delivers its renowned SmartStream IP management software for free.
SmartStream PLUS delivers an additional layer of STL-grade redundancy and is available as standard in Tieline Genie Distribution.
Flexibility and Interoperability
Tieline G5 ISDN module
Many broadcast networks are transitioning to IP but still require connectivity over ISDN. Tieline Genie Distribution codecs deliver flexibility by allowing you to connect over ISDN or IP networks as required. Simply purchase the optional G5 ISDN module, insert it in the codec and you are ready to connect over ISDN or IP on demand. Click here to learn more about Tieline ISDN options.
Genie supports both IPv4 and IPv6 (Dual Stack) protocols, so broadcasters can be assured that they have made a smart investment for the future as new networks and technologies emerge over time. Connect over IP with any SIP-enabled IP codec brand that supports the EBU N/ACIP tech 3326 standard, as well as VoIP telephone devices supporting G.711 and G.722.
Network Management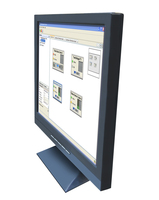 Genie is also designed to be managed by Tieline's new Codec Management System, which allows you to use any computer to manage your entire network of IP codecs remotely. You can use this powerful system to create and manage primary and backup connections and view audio PPMs and IP statistics to maintain mission critical connections.
You can even adjust individual codec settings like algorithms, jitter buffers and forward error correction.
For more information about Genie contact Tieline onsales@tieline.com
Can be purchased with Wheatstone compatibility
Technical Specification
Input/Output Specifications
Analog Audio Inputs
2 x Female XLR line inputs
Analog Audio Outputs
2 x Male XLR
AES3 In
1 x female XLR (Channel 1 in; shared with Ch1 analog input)
AES3 Out
1 x male XLR
Auxiliary Input
1 x 6.35mm (1/4″) Mic/Line level Jack on rear panel (15V phantom power available)
Female DB-25
4 additional analog or digital inputs/outputs
Headphones Out/Aux Out
1 x 6.35mm (1/4″) Jack on rear panel and 1 x 6.35mm (1/4″) Jack on the front panel
Control Port In/Out
Four relay inputs and four opto-isolated outputs for machine control via a DB15 connector.
Audio Input Impedance
High Impedance  > 5K ohm
Output Impedance
<50 ohm Balanced
Clipping Level
+22dBu (input and outputs)
A/D & D/A Converters
24 bit
Frequency Response at 48kHz
20Hz to 22kHz
Frequency Response at 96kHz
20Hz to 32kHz (Analog); 10Hz to 45kHz (AES3 Digital)
THD and Noise (Analog)
<0.0035% at +16dBu or -89dBu unweighted
THD and Noise (Digital)
<0.000056%
Analog Signal To Noise Ratio
>98.5dB at +22dBu, unweighted
Sample Frequencies
IP Sample Frequencies
16kHz, 32kHz, 44.1kHz, 48kHz, 96kHz
Algorithms
IP
Tieline Music, Tieline MusicPLUS, G.711, G.722, MPEG-1 Layer 2, MP3, LC-AAC, HE-AAC and HE-AACv2, AAC-LD, AAC-ELD, Opus, 16/24 bit aptX Enhanced
IP (uncompressed)
Linear PCM16/24 bit 48/96kHz sampling
Data and Control Interfaces
USB
USB 2.0 Host port on the front panel
LAN
2 x 10/100/1000 RJ45 connectors
Advanced Networking
VLAN tagging (IEEE 802.1Q,802.1p)
Serial
RS232 up to 115kbps with or without CTS/RTS flow control via female DB9 connector, can be used as a proprietary data channel
Protocols Supported
Tieline, DHCP, SNMP, DNS, HTTP, IGMP, ICMP, VLAN, IPv4/v6, FEC, SIP/SDP (EBU N/ACIP Tech 3326 compliant), RTP
ISDN via module
Optional via module slot
POTS via module
Optional via module slot
Front Panel Interfaces
Display
256 x 64 monochrome LCD
Keypad
21 button keypad
Navigation
5 button keypad
General
Size
1U x 19″ Rackmount
Dimensions
19" x 1.75" x 13.5" [482mm (W) x 44mm (H) x 343mm (D) including rear connectors]
Weight
6lb 7.7oz/2.94Kg
Power Consumption
Dual AC 100-240V IEC power inlets; 1A – 50-60Hz
Operating Temperature
0°C to 45°C (32°F to 113°F)
Humidity Operating Range
20% ≤RH ≤70% (0 to 35°C/32°F to 95°F), non-condensing
Product Resources