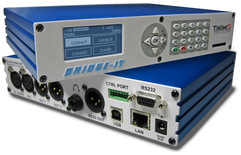 Summary
Tieline's Bridge-IT is the ultimate low-cost, high-performance, stereo IP audio codec solution for broadcast and professional applications. Designed to deliver point-to-point or multi-point connections, Bridge-IT transports audio streams reliably, simply and effectively over a range of IP data networks such as wired and wireless LANs, WANs, the Internet, satellite IP, Wi-MAX and Wi-Fi.
Bridge-IT will be EBU N/ACIP Tech 3326 compatible over IP and will connect to any SIP-enabled IP codec brand with industry standard algorithms, as well as VoIP devices supporting G.711 and G.722. Bridge-IT is also Internet/satellite streaming and HD and digital radio compatible.
It is designed for desktop use or two units can be installed side-by-side in a purpose-built 1RU mounting bracket.
Features
Applications:
Bridge-IT is perfect for a large range of broadcast and professional applications that include:
Studio-to-Transmitter Link (STL) applications
IP audio distribution
Simple remote broadcast links
Cable Head End IP Audio Distribution
Low-latency audio over IP bridging solutions
Multiple codec installations (2 codecs fit in 1 x 19 rack unit)
Multicasting and multiple unicasting over compatible IP networks (coming soon)
Low Cost, High Quality Audio over IP Solutions
Bridge-IT is low cost and allows broadcasters to expand their IP network at a fraction of the cost of competing IP codecs without compromising on broadcast quality features.
With Bridge-IT you can tailor your codec to suit your own individual requirements. Purchase encode or decode only versions, or both, depending on your requirements.
Bridge-IT comes with a range of high performance broadcast algorithms plus optional AAC LC and AAC HE (available soon). Standard algorithms include 16 Bit 22kHz linear audio at less than 12 ms encode delay for uncompromised audio, G.711 G.722, MPEG Layer 2 and Tieline Music. The Tieline MusicPLUS algorithm also provides 22 kHz mono, dual mono and stereo with 20ms encode delay at under 100 kbps, offering huge savings on your IP data bills and outstanding audio quality.
Unlike most low cost IP audio codecs, Bridge-IT has all the broadcast input connectors you would expect on a full-featured codec. Simultaneous analog and digital AES/EBU audio outputs are provided on XLR connectors and it includes a (6.35mm) stereo headphone output.
Simple to use
Compare Bridge-ITs superior programming functionality and simple user interface with other low cost codecs. Bridge-IT features a full hardware front panel interface including navigation, LCD display, PPM metering and dialing key pad. It can also be configured and controlled remotely using an optional web interface.
Simple non-technical IP connections and Onboard Audio Backup
Bridge-IT will be the first low cost codec to offer 3 different ways to connect over IP.
If you only need a simple permanent point-to-point encoder and decoder, Bridge-IT is the only low cost IP codec that lets you connect without using a computer. Simply dial the IP address of the remote codec using the front panel keypad and LCD screen.
For remote control and configuration via the Internet, Bridge-IT serves up a comprehensive graphical user interface in a standard web browser. Just type the IP address of the codec into your web browser, or if you purchase the optional TieServer (coming soon) license, you can simply click on the codec name in the TieServer web browser interface and it will go and find it for you. There's no need to know the IP address of any codec in your network with TieServer and you can manage all your codecs at once.
Purchase the optional TieServer IP traversal server license when you buy Bridge-IT to make IP connections simpler than making a telephone call. There's no need to figure out IP addresses or deal with crossing IP firewalls. TieServer does it all for you. Simple register your Bridge-IT with Tieline's global TieServer once only, give it a name (like Chicago Studio) and then watch your codec's address book automatically populate with other online Bridge-ITs in your network each time you connect it to the Internet. It's just like launching Skype and watching your online buddies pop up in the address book on the Bridge-It screen. Then you simply arrow down to the codec you wish to connect with and hit Dial to connect. It's perfect for non technical people. You never need to connect to a computer again.
Automatic IP network management and failover.
Tieline's QoS Performance Engine automatically manages the IP connection between two points using dynamic jitter buffering, forward error correction and packet repair, to deliver continuous high quality audio over both managed networks and the open Internet.
In case your IP link fails Bridge-IT also has an SD/SDHC card slot which can be pre-loaded with linear or MP3 (coming soon) audio for automatic failover to backup recorded audio. Bridge-ITs onboard relay control ports can also be programmed to notify you of a failure via any third party relay-enabled hardware.
Features
Compact design, with two codecs fitting into a 1RU mounting bracket.
Suitable for point-to-point and multi-point (multicast) IP connections over a variety of
connection transports.
Linear audio with suite of high quality broadcast algorithms as standard and optional AAC-
LC and AAC-HE.
Tieline's loss-tolerant MusicPLUS algorithm provides up to 22 kHz stereo audio quality with
20ms coding delay at bit rates as low as 96kbps – making it ideal for today's IP and 3G
networks.
Tieline Music can deliver up to 15 kHz FM quality mono audio at bit-rates as low as 24Kbps,
with only 20 milliseconds encoding delay.
 QoS Performance Engine automatically manages jitter buffering, forward error correction and
packet repair.
Full hardware front panel interface including navigation, LCD display, PPM metering and
dialing key pad.
Web GUI for programming codec functionality and RS232 data connections.
Integrates seamlessly with TieServer for simple IP configuration and one touch IP connections.
Broadcast quality analog XLR inputs/outputs.
XLR digital AES/EBU input/output.
Simultaneous analog and digital AES/EBU audio outputs.
Onboard SD card for automatic audio failover.
1/4″ (6.35mm) stereo headphone output.
2 relay inputs and 2 opto-isolated outputs plus RS-232 for local and remote control of
equipment at either end of your codec link.
USB slave connection for codec configuration.
Technical Specification
Specifications
The first release date at the end of October 2009 will deliver:
Point-to-point connection capability, with simultaneous analog audio and digital AES/EBU
outputs.
Uncompressed linear audio, plus popular and widely available algorithms like MPEG Layer 2,
G.711, G.722, Tieline Music and Tieline MusicPLUS.
SD/SDHC card failover.
The second scheduled release date prior to Christmas 2009 will include:
Optional algorithms that include AAC-LC, AAC-HE v.1 and AAC-HE v.2.
Multi-point IP solutions that include multicasting and multiple unicasting capability.
Connections to any codec brand using TieServer, Tieline's IP traversal server.
Product Resources