Nautel VS300 – 300W FM Transmitter Available!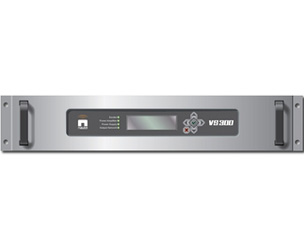 Nautel's new VS Series FM transmitters are engineered to meet today's most challenging broadcast requirements with an exceptional combination of robustness and reliability in a cost effective design. But the VS Series goes even further with industry first innovations such as IP audio I/O, Livewire (TM) Support and Nautel's Advanced User Interface (AUI). Each VS transmitter has been optimized for its specific power output to maximize functionality and quality resulting in outstanding value.
Many transmitters in the 300 W to 2.5 kW class use an inexpensive analog exciter that is sometimes an external unit. In the VS Series, not only did Nautel engineers integrate the exciter, they implemented a true direct-to-channel digital exciter to achieve class leading performance. That means crystal clear audio and outstanding value. A great achievement considering that digital exciters alone usually sell for over US $10,000. The VS300 and VS1 transmitters with their built-in RDS generator, GPS input, powerful presets and -90dB SNR make for powerful and extremely cost-effective exciters.
Nautel brings its renowned Advanced User Interface (AUI) found in its high end transmitters to the VS Series. Instrumentation is included that would be valued separately at more than the cost of the transmitter. In addition a front panel LCD provides control of key functions. Advanced control features include:
– RF and audio spectrum analyzers
– Comprehensive monitoring and control
– Extensive logging of all events
– SNMP support
– Email notifications
The VS Series are the first transmitters ever to implement Axia's Livewire Studio to Transmitter Audio over IP Workflow. The result is a seamless digital IP audio path from a host of Livewire compatible devices directly into a Nautel transmitter ensuring outstanding audio purity via a CAT 5 cable.
Nautel added a USB port so that you can connect megabytes of local storage. Use the storage to store content or even load up the songs and content using the VS internet connection. Once you have audio loaded it can become part of the automated back up audio capability should all other connections fail. Using Nautel PUSHRADIO™ from your office or anywhere for that matter you can set up basic automation capabilities to playout audio or insert local content. It's like putting part of the studio inside the transmitter. Nautel PUSHRADIO can help satellite connected stations slash costs and provide more local content.
For the first time ever, Orban's signature processing is integrated directly into a transmitter via an economical plug-in DSP card. At about half the cost of a standalone processor Orban Inside™ incorporates many features of Orban's Optimod 5500 Series digital processor with 5 band processor and dual band window-gated AGC. Utilizing the Nautel AUI, users have full control over processing functions.
Join the growing ranks of over 2,500 customers who have deployed VS Series transmitters and learn why Nautel transmitters and support are counted on for decades of service.
For more information visit the product page at: Nautel VS300 – 300W FM Transmitter >
Or, call us on +61 2 9987 0499 or send us a question using the form below:
[wr_contactform id=2974]